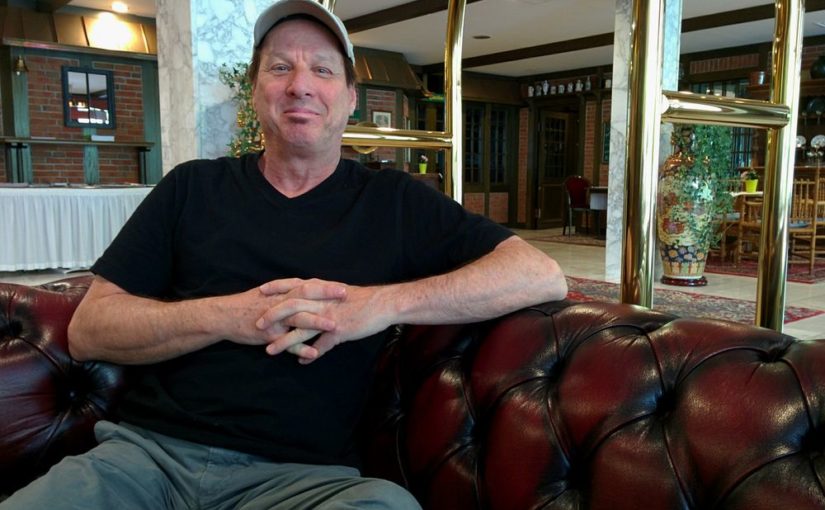 Interview mit Adrian Belew
Viele Menschen werden vermutlich eine Aufnahme von Adrian Belew bei sich zu Hause im Plattenschrank haben, ohne sich dessen wirklich bewusst zu sein. Der Gitarrist und Sänger aus Covington, Kentucky (USA) hat auf einigen der erfolgreichsten Scheiben der letzten 40 Jahre mitgespielt. Dazu gehören "Lodger" von David Bowie (1979), "Sheik Yerbouti" von Frank Zappa (1979), "Remain In Light" von den Talking Heads (1980), "Discipline" von King Crimson (1981), "Graceland" von Paul Simon (1986) und "The Downward Spiral" von Nine Inch Nails (1994).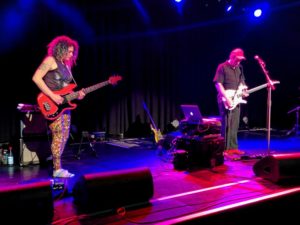 (Fotos: Adrian Belew Power Trio live in Oldenburg 25. April 2017)
Mit vielen dieser Musiker war er auch als Livegitarrist auf Tour und er ist darüber hinaus noch auf Platten von Jean-Michel Jarre, Laurie Anderson, Mike Oldfield, Herbie Hancock, Joe Cocker, Cindy Lauper und Porcupine Tree zu hören. Außerdem hat er mehr als 20 Alben unter eigenem Namen oder als Teil verschiedener Projekte veröffentlicht.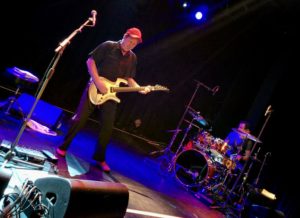 In Oldenburg war er bereits im Sommer 2014 beim alljährlichen Kultursommer mit dem Crimson ProjeKCt zu Gast, ein Zusammenschluß seines eigenen Power Trios und den Stick Men um den Bassisten Tony Levin. Am 25. April dieses Jahres kehrte er dann mit Bassistin Julie Slick und Schlagzeuger Tobias Ralph als Adrian Belew Power Trio in die Oldenburger Kulturetage zurück. Die Show bestand zu gleichen Teilen aus Belews Solomaterial und King Crimson-Stücken von Platten wie "Beat" (1982) und "Three Of A Perfect Pair" (1984), die im Herbst 2016 erst als aufwändig remasterte "40th Anniversary Editions" neu erschienen sind.
(Interview with Adrian Belew recorded April 25, 2017 in Oldenburg, Germany)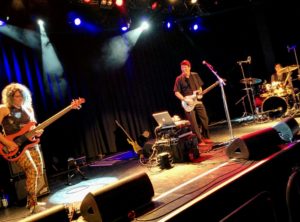 Aktuell hat er neue Stücke als App unter dem Namen "Flux" veröffentlicht und am 15. September ist das erste Album der Supergroup Gizmodrome erschienen, in der er gemeinsam mit dem italienischen Keyboarder Vittorio Cosma, dem Schlagzeuger Stewart Copeland (The Police) und Bassist Mark King (Level 42) spielt.
Am 19. Januar 2018 wird er dann mit dem "Celebrating David Bowie"-Projekt in "Huxleys Neue Welt" in Berlin auftreten. Den Abend bestreitet er dort gemeinsam mit weiteren langjährigen Bowie-Musikern wie dem Pianisten Mike Garson, dem Gitarristen Gerry Leonard und dem Bassisten Carmine Rojas.