Die Musikerin Laura Carbone hat im Mai diesen Jahres ihr zweites Soloalbum "The Empty Sea" auf dem Berliner Label Duchess Box Records herausgebracht. Die Sängerin aus Sinsheim in Baden Württemberg war um 2010 herum zunächst Teil der Band Deine Jugend, die vor allem dem New Wave und der NDW nachgeeifert hat. Ihr erstes Soloalbum "Sirens" erschien dann 2015 und ging musikalisch mehr in Richtung New Wave, Dream Pop und Darkwave. Es folgten Tourneen mit INVSN, The Pains Of Being Pure At Heart und The Jesus And Mary Chain und die lange Arbeit am zweiten Album.
(Laura Carbone – Interview – Café Miller – Reeperbahn Festival – 21.09.2018)
Mehr Rock, mehr Noise sollte es sein, aber die ersten Demos fand sie zu digital, zu glatt, es musste eine komplette Neuorientierung im Produktionsprozess her. Jetzt hört man am Sounddesign und den Kompositionen dieses hartnäckige feilen und zimmern an jedem Track auch heraus.
Entstanden ist ein abwechslungsreiches und herausforderndes Album zwischen Noise, Gothic Rock und Indiepop mit Verweisen auf Nancy Sinatra, Chris Isaak, PJ Harvey und Nick Cave. Die neue Single "The Flowers Beneath My Feet" hat sie mit dem New Yorker Musiker Kip Berman von The Pains Of Being Pure At Heart produziert. Im Januar geht sie gemeinsam mit ihrer Band auf Tour.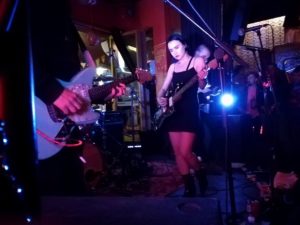 (Laura Carbone & Band live – Sommersalon Klubhaus St. Pauli – Reeperbahn Festival – 19.09.2018)