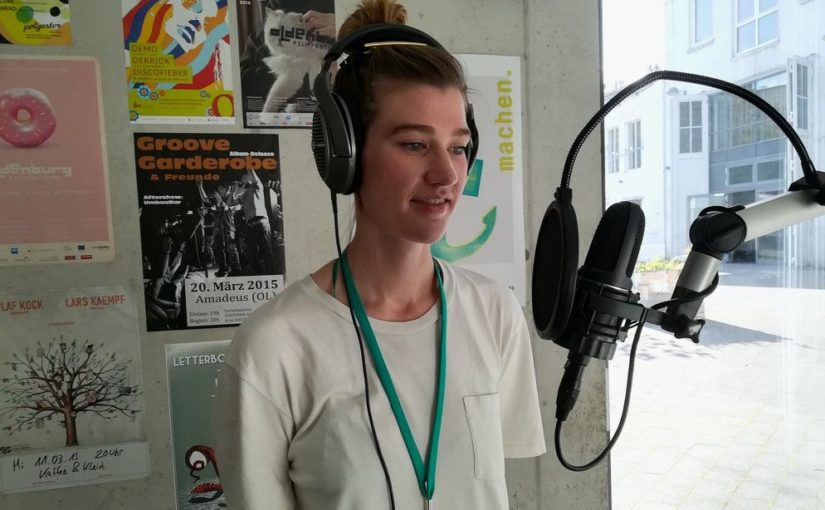 Interview mit Grace Glowicki
Die kanadische Schauspielerin und Filmemacherin Grace Glowicki hat im September mit ihrem ersten Spielfilm den mutmaßlich waghalsigsten Streifen in das Programm des 26. Internationalen Filmfest Oldenburg gebracht.
In "Tito" spielt sie selbst die Titelfigur, einen jungen Mann, der von Nervosität, Unsicherheit und Paranoia gepeinigt wird und sich von allen Menschen zurückgezogen hat, bis er schließlich von einem zwielichtigen Nachbarn heimgesucht wird, der ihn unbedingt zum Freund haben möchte. Ein surrealer filmischer Alptraum, den Glowicki selbst eine "gothic feminist fable about a man being hunted by sexual predators" nennt. Darüber habe ich mit ihr während des Festivals im Radiostudio von Oldenburg Eins gesprochen.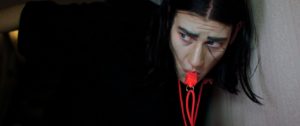 (Interview with Grace Glowicki recorded September 13, 2019 in Oldenburg, Germany)
Glowicki hat Film in Montreal studiert und 2016 mit "Queef" ihren ersten Kurzfilm als Regisseurin vorgelegt. Sie arbeitet eng mit ihrem Partner Ben Petrie zusammen, der in Tito die zweite Hauptrolle spielt. Glowicki spielt auch eine der Hauptrollen in Ben Petries eigenem Kurzfilmdebut als Regisseur "Her Friend Adam".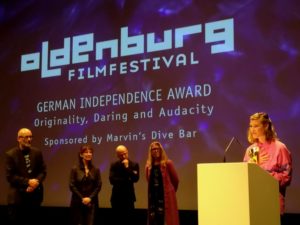 (Closing Night Gala and Award Ceremony 26. International Filmfest Oldenburg, Staatstheater Oldenburg, with Festival Director Torsten Neumann, Amanda Plummer, RP Kahl and Deborah Kara Unger)
"Tito" ist ein radikaler und transgressiver Film, der Fragen nach Identität, Geschlechterpolitik, Ausbeutung und sexualisierter Gewalt stellt. Zugleich ist der Film aber auch perfektes "Midnight Movie", weil er als spannende Mischung aus Psychothriller, Horrorfilm und Komödie inszeniert ist. Dazu kommt noch die aufregende schauspielerische Arbeit der beiden, die oft in langen Takes mit wenigen Schnitten perfekt interagieren.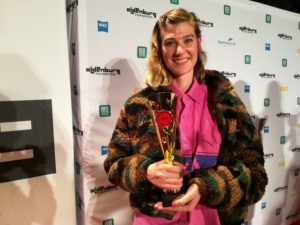 Für "Tito" gab es beim Filmfest Oldenburg den erstmals vergebenen Preis für filmischen Wagemut und Originalität, den German Independence Award for Originality, Daring and Audacity. Außerdem gewann der Film den Adam Yauch Hörnblower Award beim SXSW 2019 und den Rotraut Pape Inspiration Award bei der B3 Biennale of the Moving Image auf der Frankfurter Buchmesse.