Die belgische Postrockband We Stood Like Kings war im Januar zu Gast im Oldenburger Kino cine k. Der Auftritt war Teil ihrer aktuellen Tournee, bei der sie mit einer Stummfilmvertonung des deutschen Filmklassikers "Berlin – Die Sinfonie der Grosstadt" (1927) von Walter Ruttmann unterwegs sind. Das Konzert war bereits der zweite Auftritt in Oldenburg innerhalb eines Jahres und komplett ausverkauft.
Das Interview mit Pianistin Judith Hoorens und Schlagzeuger Mathieu Waterkeyn habe ich am 8. Januar im cine k in der Kulturetage geführt.
(Interview with Judith Hoorens and Mathieu Waterkeyn recorded January 8, 2015 in Oldenburg, Germany)
Das nächstes Projekt der Band ist die Vertonung von Dziga Vertov's 1926 entstandenem Film "A Sixth Part of the World". Der russische Regisseur ist später mit "The Man With The Movie Camera" (1929) berühmt geworden, der auch schon mehrfach neu vertont wurde. Die Musik zu "Sinfonie der Großstadt" ist auch auf der aktuellen Platte "Berlin 1927" zu finden. Das Album besteht aus fünf langen Instrumentalstücken, die genau zu den fünf Akten des Films passen. Erschienen ist das Album beim Bielefelder Plattenlabel Kapitän Platte.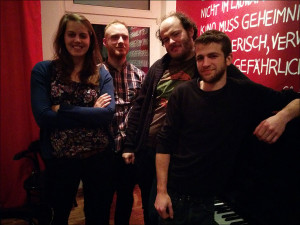 Judith Hoorens : piano, synths, Steven Van Isterdael : electric guitar,
Colin Delloye : electric bass, Mathieu Waterkeyn : drums
We Stood Like Kings Homepage
We Stood Like Kings bei Facebook
Twitter
Kapitän Platte
https://www.youtube.com/watch?v=UcI1U_VCa_g